About Devika Rani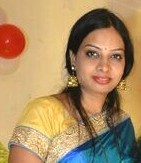 Devika is a highly experienced and trusted name in the field of Dietetics as she is a specialist in Weight Loss and Therapeutic Diets. She is Masters in Dietetics & Food Service Management and holds a Professional Diploma in Diabetic Education from International Diabetes Federation. She has rendered her valuable services to KGMC (Lucknow) and St. Stephen's Hospital (New Delhi). She had also been associated with various Diet and Wellness Clinics in New Delhi and Lucknow.
Devika is a Wellness and Dietitian expert. She has been providing dedicated and customized Dietary Consultancy to help people cope up with their health issues for almost a decade now. Her professional guidance has helped many to overcome certain major and minor health issues that they were unable to resolve over a long period of time. Her experience and knowledge has proved to be a boon for all those who were having unhealthy eating habits thereby leading to an improper lifestyle. According to Devika, in the busy life that we undergo each day, we very often forget to pay attention to ourselves and as a result, we are bound to face numerous health issues. As a professional Dietitian, Devika aims to first correct and then realign an individual's dietary habits so as to help him/her in achieving a good, balanced and healthy lifestyle. All it takes to live in a healthy way is a little dietary advice and lifestyle modification from an expert like Devika. Not only this, Devika strongly believes that "every individual has a specific body setup and when it comes to planning diets, no two individuals can be identical in any of the ways." Therefore, she provides personalized diet plan that is custom-made for every individuals. Such diet plans are based on an individual's personal requirements, medical conditions and social and mental status."
About Devika's Diet Clinic
It was in the year 2011 that Devika's Diet Clinic started functioning in Lucknow (U.P.) and till date continues to provide expert dietary services/advices to all the clients both nationally and globally. To make herself available and accessible, Devika has always found that e-mails and WhatsApp android application are the most convenient, economical and hospitable platforms where diet consultations can be very easily initiated, discussed and pursued effectively. As per Devika, she says that "Services are for all, so it must reach to the maximum audience."